"The moment you can visualize being free from the things that hold you back, you have indeed begun to set yourself free." Unknown Author
For about the past 5 years, there has been a particular word that has guided my life and my decisions: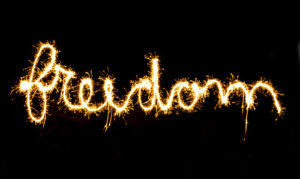 I am drawn to the idea of having more freedom in my life.
I want to live my life from a place of choice, rather than from a place of obligation.
I want to be able to say "I choose to…" much more than "I have to…"
I wanted a deep, soulful love that lives in my heart and I cannot live without. Got that.
I wanted to continue to learn more about the things I care about and feed my spirit. I do that. Regularly.
I knew that I had gifts and talents that weren't being used in the area of service and teaching to others. So, I changed how I thought about my contribution in this world and how I earn a living.
I wanted deep, meaningful relationships with other women that inspire and challenge me. I am blessed that I am able to check that box regularly with my circle of sisters that surround me with love and support.
It seems a fitting time of year to delve deeper into how living in freedom is a glorious place from which to create and sustain an abundant life.
I hear you saying, "OK, great for you, Sharon, but how do I get to a place of freedom for myself?"
In order to get to that place in our lives, we simply get really honest with ourselves to set ourselves free from the prison bars that we all face occasionally and that have been holding us back:
Freedom from the belief that we're somehow not enough; not smart enough, not thin enough, not attractive enough, not rich enough, not outgoing enough, not whatever enough.
Freedom from uninspiring careers that might pay the bills but don't feed the soul.
Freedom from filling the emptiness in our lives with more material things instead of more joyful experiences.
Freedom from mediocre marriages, false friendships and family drama.
If you also love the idea of living your life from a place of choice, abundance and freedom, I've included the Freedom From… Manifesto poster for you to share, download and print.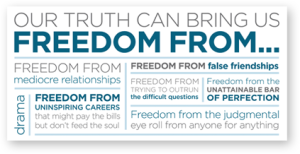 https://sharonpope.com/downloads/manifesto/SharonPopeTruth_Freedom_From_Manifesto.pdf It's my gift to you – enjoy it, print it off, save it and share it with everyone you love.
Tell the Truth. Show up in Love. Live in Freedom.