"We're brilliantly designed to heal ourselves and return to wholeness. But sometimes we can use a little help." Debbie Ford, The Dark Side of the Light Chasers
This week my best friend turned 50 years old. And we celebrated in Paris.
Yes, Paris.
It had been a dream of ours: host a women's retreat in Tuscany and then go to Paris for a few days at her birthday. We had talked about it as something we're going to do someday.
So many times, people create dreams and say, "Someday I'm going to…" but they never really do it.
Someday I will see Paris…
Someday I'm going to create the love I really want in my life…
Someday I'm going to make peace with my family..
Someday I'm going to own a business..
Someday I'm going to slow down and really enjoy my life…
So, what was the difference here?
How did this happen for us?
How did we just spend the last 2 weeks in Tuscany and Paris?
I promise you, it's not that we're that magical (at least not in that way)…
We didn't hold any space for not doing it.
We never searched for excuses or suppressed our desires.
We never doubted or let other people's fears inhabit our minds.
I think having good people by your side gives you courage, making it safe to do things outside of your comfort zone. And sharing your dreams with someone only makes those dreams bigger and more vivid.
So, who do you have in your corner?
Who is the person that shares their heart and their life with you?
Who is the person that generously shares their gifts and cheers you on?
Who is there to remind you of who you are when you forget?
I know we've come to believe that going it alone makes us strong, but we need one other. There's no shame in needing another soul to help us become who we were born to be. It doesn't make us weak to allow someone to help us dream bigger, reach further and get more connected to our souls.
Sometimes, that's an amazing friend with an enormous heart.
Sometimes, that's a family member who gives you permission to use your wings.
Sometimes, it's a coach to guide you through the difficulties in your life and use it as seeds for future growth.
We need one another.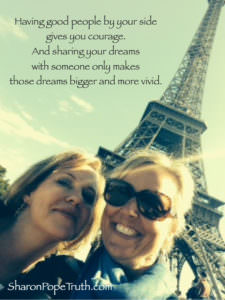 Tell the Truth. Show up in Love. Live in Freedom.