"You must know what you want, to find what you want." Lailah Gifty Akita
When we're opening our hearts to love in an effort to find the love of our lives, many times there is a mental, if not a physical, checklist that exists. Sometimes there are 2 separate lists used for finding love:
One listing all the traits we want in a partner, and
One of all our "deal-breakers."
When we've got a checklist and we just meet someone new, we immediately begin mentally checking the boxes that we think this person meets as a possible life partner:
___        Good Looking
___        Great Smile
___        Funny
___        Established in career
___        Income Level
___        Age range
As we move beyond the superficial, we're still checking boxes:
___        Enjoys Similar Hobbies / Interests
___        Good relationship with Family
___        Belief in God
___        Passionate Lover
___        Kind
___        Smart
___        Married previously?
___        Children and ages?
How do I know this?
I know this because I had a checklist.
I know this because many of my clients had checklists.
I know this because I have good friends of mine with checklists of their own.
When wise, well-intentioned people tell you that when finding love, you should create a vision for your partner, all too often they allow you to go to the physical picture of that partner and the very pragmatic checklist of what they look like, how old they are, how tall they are….. (insert yawn here)
I'm suggesting you go deeper than that…
I'm suggesting that your vision for your life partner should be based on how you want to feel; it should be driven from the desire of how you want to feel to love and be loved.
How does it feel to fall asleep next to this person? (safe, warm, easy, like you're home)
When you're having a quiet dinner out and sitting across the table from the one you adore, how do you want to feel in their presence? (happy, secure, adored, expansive, open)
When the one you adore touches the small of your back or wraps their arms around you or comes up behind you and kisses your neck, what sensations do you want to experience? (breath or breathless, lightness, connected)
When you express your love to the one you adore, what does that look like and feel like? (generosity, grateful, communicative, committed, present)
When you're walking beside the one you adore, hand-in-hand through a busy street, how do you want to feel about yourself? (lit-up, energized, confident, graceful, free, honest)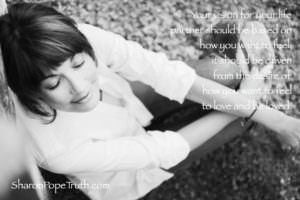 These are the questions and the ingredients for a life partner that we should be considering to really meet our desires.
How do you want to feel?
What do you want to express and experience?
Go beyond the superficial. Go deeper. Go wider.
That's how you create a vision for the love you want.
The man who became the great love of my life, my husband, Derrick, didn't meet some of the superficial boxes I had in my mind at the time I was dating. But I had a very clear understanding of the feeling that I desired in my life and in my heart. And he continues to check all those boxes with ease.
Tell the Truth. Show up in Love. Live in Freedom.